Love What You Do And You'll Love How You Live
Over twenty-five years ago, I discovered that I really had a flair for making fudge. It's something I started doing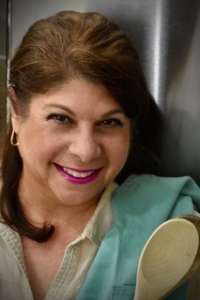 over the holidays and it was so flattering to see my friends and family enjoying the Dark Chocolate Oreo® Cookie, Peppermint and Peanut Butter fudge treats I prepared for them.
I love to cook and my real passion is sweets. But, if forced to choose, I can honestly say that the only activity I enjoy more is traveling with my husband.
Matter of fact, the idea for A Flair For Fudge was inspired by travel and the advice of a dear friend! We were visiting her and her husband in their home on an island off the Florida Keys. Only 16 residences in total and the island was completely off the power grid, an amazing experience, to say the least!
Having just been downsized from corporate America, from a Director of Marketing position for several Harley Davidson dealerships, I was brainstorming with my friend regarding what was next for me, professionally.
As one of the recipients of my holiday fudge and knowing how much I enjoyed the whole process, from creation to presentation she asked "why not turn this into a business?"
Long story short, here I am 10 years later, turning my labor of love into an adventure I enjoy living every day!
In my previous life as an adverting and marketing executive, you learn very quickly that the product you are featuring should stand out as much as possible from the competition. Fudge is no exception.
So, I went to work and started experimenting with a mix of unique ingredients, paired with my devotion for seeing what the world has to offer around every corner, starting with my own back yard, the Florida Keys, with my Key Lime Pie fudge. Then we cross the ocean to Italy and the Italian Black Truffle fudge, which reminds me of the many delicious dinners I've had in that marvelous country. And that's only the beginning, as you will see when you check out my other fudge flavors.
We use only the finest ingredients to achieve some of the most original combinations and incredible tastes you will ever experience.
And, I promise to continue experimenting, and of course, visiting new destinations. I'll share my creations with all of you, so we can enjoy this adventure together.
Let's Go!
Sincerely,
Hilary Saporta
"The fudge is fantastic and the promotional wrappings very effective. Makes a great "Thank You" gift. If you are a realtor, mortgage lender, or anyone else in a housing related business, ask about the house shaped fudge. Perfect for my business as a loan officer. "
"Dark & Spicy flavor!! The most interesting and possibly the best fudge flavor I've ever had. First you get the dark chocolate, then the cinnamon, and then the spice. If you like spice and sweet/savory, you must try it. The other flavors I tried were wonderful as well. "
"Working with Hilary is wonderful. She is extremely accommodating and very creative. She goes above and beyond to ensure clients get exactly what they want. BONUS!! The fudge is amazing. Great product and service you can't beat that."
"I'm not a big candy person. Usually fudge is too sweet to me. But this fudge is all about taste. We bought the dark chocolate and salty. It was just the right blend and tasted wonderful. I can't wait to try more."
"This is the best fudge I ever ate!"; "I am savoring the fudge. It is sooo good, and I don't want to finish it."
"Hilary is awesome! I recently met her and we connected right away. As a realtor I'm always looking for neat gifts to send to my clients and this delicious fudge is perfect way to celebrate a home anniversary for my clients. Shipping is fast and Hilary communicates every step of the way. I highly recommend A Flair for Fudge!"
"I was looking to do something different for my clients and I met an amazing person Hilary from A Flair For Fudge. Not only did my clients love the fudge they called me to rave about it. She made cute little fudge homes. It was personalized with my logo and contact information. I highly highly recommend A Flair of Fudge for a gift or for yourself!"
"Wow!! The best fudge hands down! It's absolutely delicious and so many amazing flavors. I love the spicy! And Hilary is a pleasure to do business with. Yum!"